DUE INCREASED GASES, FOR SAFETY REASON GOVERMENT RESTRICTION FOR NIGHT TREKKS TO SEE BLUE FIRE DURING THIS MONTH, IJEN OPEN AT 4AM FOR SUNRISE AND DAY TRIP
Checkout
Tour Detail
SURABAYA – TUMPAK SEWU – BROMO TOURS – IJEN CRATER – DROP OFF BALI BY FERRY – TRANSFER UBUD 3D2N PACKAGES
TUMPAK SEWU BROMO IJEN
3DAYS 2NIGHT

Date of Trip
Guest
Person
Price
Rp /

person
Total Rp
SURABAYA - TUMPAK SEWU - BROMO TOURS - IJEN CRATER - DROP OFF BALI BY FERRY + TRANSFER UBUD 3D2N PACKAGES
ITINERARY :
we have to be start early morning 5/6am from Surabaya/ Malang airport, because treks to tumpak sewu are start at 8-9am
Days 1 Pick Up Surabaya Airport/ Surabaya train station / your hotel in Surabaya + tumpak sewu
· Pick up service from Surabaya airport at any time in Surabaya airport or Surabaya train station at Gubeng Train Station
· we goes to tumpak sewu areas about 2,5 hour drives, then meet local guide , for visiting and explore tumpak sewu waterfall
. Go to bromo 2,5 hours drive, we can stop anytime for lunch before arrive at hotel
· Stay near bromo at Cafe Lava hotel if available, or others hotel similar class
· Free program
Days 2 Bromo Sunrise Tours + Mount. Bromo trekking
· Start at 3.30a.m by jeep
· 1 hours half drive to view point Penajakan 2700meters dpl
· Prepare jacket, temperature would be 5 degrees you will go only with a driver,
· Waiting sunrise
· See panorama sunrise of mount bromo
· See Mount Semeru
· See landscape
· Back to jeep
· Jeep drive infront of mount bromo
· Climb bromo
· See bromo caldera
· See bromo crater
· See Hindus temple infront Mount Bromo
· See Mount Batok next to Mount Bromo
· Back to hotel
· Breakfast
· Rest and relax
· Leave from hotel at 10a.m
· Go directly to ijen crater 6 hours drive
· Stay near Ijen Crater at Ijen View hotel or similar class
· Free program
Days 3 Ijen Blue Flame tour + transfer to ubud bali
· Start at 00.00 a.m from hotel
· 2 hours drive to Ijen Crater area
· Breakfast on the box
· Start climb at 2a.m
· 3 km hike to reach summit 2386 meters dpl
· 1 hours walk to summit,
· you will see Blue fire
· you will seee Cosmic Flames , it's like going inside another planet,
. after See Ijen Blue Flame Tour and see the crater of Kawah Ijen
· See panorama
· See ijen miners
· See sulphur
· See landscape
· Back to car, enjoy the breakfast then we will bring you to visit coffee plantation and visit Jagir waterfall
· 1 hours half drive to ferry
· Drive to ferry
· Take a ferry to bali with our team
. get pick up another private car at gilimanuk
, 4 hours drive to your own hotel in ubud bali
· End tours
Price :
Minimal 2 person For Private Tour
Included :
Transportation
· Pick up service from Surabaya
· Private car during 3 days 2 night
· Safety driver
. fuel
· Private jeep bromo tours
· Ferry to bali
Accommodation
· 2 night standard superior room + hot water
· Included breakfast
· Free wi fi
Entrance fees
. All fees during this program
· Entrance fees bromo national park
· Entrance fess ijen crater
· Fee local guide ijen blue flame tour
· Ferry ticket to bali
. all fees car parking
Service and facility
· Local guide speak english for ijen only
· Safety driver
· Gas mask
· Torch
Food and drink :
· Breakfast Mineral water
Excluded : Lunch, dinner and personal expend
TERMS AND CONDITITIONS
PAYMENT
Once your reservation has been confirmed it is necessary to make deposit payment (35% from total amount of tour fees as agreement) and/or full payment at least 30 days prior to the tour commencement date. Payment for the tour deposit may be made Express via wise.com (online secure payment) and/or cash deposit, internet banking or International Money Transfer to our Bank Account. Payment for the balance of the tour fee should be made by cash deposit upon your arrival. We regret that personal or bank cheques are not accepted. We reserve the right to cancel your booking if payment is not received when due, wherein the Cancellations and Refunds clause, listed below, shall be effected. Fees are quoted in Indonesian Rupiahs and are inclusive of the Goods and Services Tax (21%). Should you would like to have the quotation in other currency, the rate will be depend on the current exchange rate decide by pepe java tours Tourism Services on the time the invoice and/or receipt issued.
SPECIAL DISCOUNT
We have quoted a special price for above price and offer
CANCELLATIONS AND REFUNDS
Should you wish to cancel your booking, you must advise us in writing. Upon receipt of your cancellation, the following fees will apply: a. When deposit payment has been made: No Refund
When full payment has been made: 30 days or more before commencement: 20% from Total Tour Fee
29 to 11 days before commencement: 50% of Total Tour Fee 10 or fewer days before commencement: 100% of Total Tour Fee No refund will be made for the tickets (flight, train, ship, transfer service, etc)
and/or hotel that has been issued.
No part refunds are made for unused portions or services of a tour, or tour
extension, under any circumstances.
PRICING
Tour fees for 2023 are based on prices as of 02 January 2023. Should price increases occur in such items as transportation, fuel, and accommodations, among others, PEPE JAVA TOURS Tourism Services reserves the right to adjust the tour fee accordingly with acknowledgment and agreement between guest and PEPE JAVA Tourism Services. An increase in tour prices shall not be deemed to be grounds for any refund of fees paid for the tour, other than in accordance with the terms of our cancellation policy. All fees and amounts are quoted in Indonesian Rupiahs. Should you would like to have the quotation in other currency, the rate will be depend on the current exchange rate decided by PEPE JAVA TOURS Tourism Services on the time the invoice and/or receipt issued.
HEALTH REQUIREMENTS
PEPE JAVA TOURS Tourism Services are designed to be suitable for people of all ages in good health and moderate fitness. While activities are not strenuous, on some tours we will be taking hikes for several miles on treks in wilderness areas, including mountainous regions, which involve uphill walks and uneven ground. It will be necessary to carry your own luggage, extra clothing, food and water for these activities. Should you have any concerns about your own capabilities and/or fitness in relation to a particular tour, please contact us to discuss this before sending your reservation form. You are required to disclose any medical or physical condition that you have which could create a risk for you or any other tour participants. We reserve the right to request a doctor's statement of good health. We reserve the right to decline participation on any tour activity where an individual's health and physical condition is deemed to be unsuitable for the activity undertaken. Once a tour space has been confirmed, medical circumstances will not be considered as exceptions to our cancellation policy. We assume no responsibility for medical care nor guarantee to meet any special dietary requirements.
INSURANCE
We not provided insurance, but all ticket destination already included insurance taking care by entrance fee on the ticket ijen or bromo/ ferry ticket.
RESPONSIBILITY
The responsibility of pepe java toursTourism Services is strictly limited. As a tour operator, We organizes, promotes, and sells tour programs consisting of certain travel services, including, but not limited to, land, air, and water transportation, and accommodations that we purchases or reserves from various suppliers. we do not own or operate any of these suppliers. The suppliers are not agents or employees acting for us. As such, we are not responsible for any negligent or willful act or failure to act of any supplier or of any third party. By utilizing the travel services of the suppliers, you agree that you will look to such suppliers for any accident, injury, property damage, or personal loss to you or to those traveling with you, and that we shall not be liable. Pepe Tourism Services cannot accept responsibility for losses or extra expenses caused by, but not limited to delay or changes in any transportation services, weather, illness, injury, strike, quarantine or other causes. All such losses or expenses will be the sole responsibility of the participant. Pepe java tours Tourism Services reserves the right to cancel any tour prior to commencement, whereupon paid tour funds will be refunded in full, but is not liable for any other tour preparation expenses such as air ticket penalties, visa fees and medical treatments. Pepe java tours Tourism Services reserves the right to substitute accommodations of similar category for those indicated and to make any changes in the itinerary or transport where deemed necessary. Where weather conditions or forces of nature restrict or prohibit tour activities, we reserves the right to alter the tour program and substitute alternative activities. The Acceptance of Risk must be signed/ mailed by each participant prior to the commencement of the tour. No alterations to the Acceptance of Risk release will be accepted. We regret that we are unable to accept participation in any tour by any persons failing to comply, and no tour fees will be refunded
ACCEPTANCE OF RISK
"I understand traveling with pepe java tours Tourism Services may involve risks (and rewards), and I have read and understood the pepe java tours Tourism Services - Final Confirmation Details for this trip which comprise the dossier / itinerary and/or accommodations / hotels list and/or type of transportation used and/or the meals arrangement and/or what inclusions/exclusions. I also have read and understood about the standard of accommodation, transport, safety, hygiene, cleanliness, medical facilities, telecommunications and infrastructure development may not be of the standard I am used to at home. I accept these risks and obligations and I fully assume the risks of travel."
All parts of the Terms and Conditions, and the Acceptance of Risk release, shall be governed in all respects by and interpreted in accordance with the law
within Indonesia.
Maybe you are interested...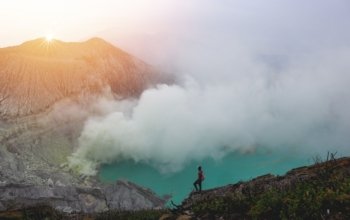 IJEN CRATER TOUR
2 DAYS
Rp 2.000.000 / person
MADAKARIPURA BROMO IJEN
3DAYS 2NIGHT
Rp 3.700.000 / person
BROMOIJEN
3DAYS 2NIGHT
*Start Rp 3.350.000 / person
Contact Us
If you have any questions, please contact us.